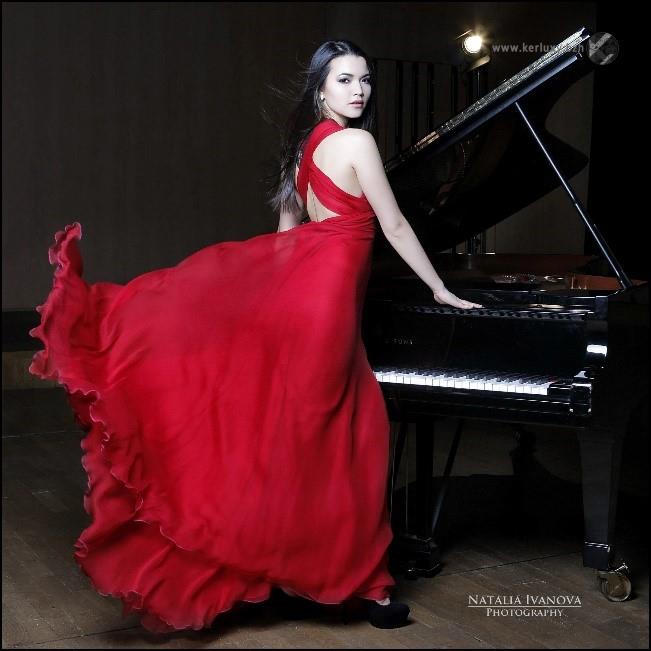 09/04/2019
Madina Abdrakhmanova
Pianist
World, Kazakhstan / France
Born in Central Asia, in a small town in Kazakhstan, my dear friend Madina Abdrakhmanova learned piano from the age of 5. In this frontier country of Russia, China, Turkmenistan, Uzbekistan and Kyrgyzstan, children are sensitized very early to the learning of a musical instrument.
Kazakhstan is a "young country" which gained its independence in 1991. Originally, the Kazakhs were a nomadic people moving with their traditional "yurt" house. This habitat was known for its flexibility and comfort. The traditional musical instruments are the dombyra, the komuz and the jetygen. Today, the country strives to promote Kazak culture abroad through cultural events in New York, London, Paris, Tokyo ...
At the age of 17, Madina won the international competition of young musicians, which opens the doors of the National Conservatory of Music in Paris, the city in which she now lives. She particularly appreciates Rachmaninov (Concerto No. 2 for piano with the orchestra), Chopin's Nocturnes, Tchaikovsky and Russian composers.
In parallel with her artistic life, she followed a course at the Sorbonne where she graduated from a master 2 in business strategy and negotiation policies.
A renowned professional pianist, she has participated in various concerts at UNESCO and the Kazakh Embassy during the National Day where she performed pieces of Kazakh composers to promote bilateral exchanges between France and her country of birth. Her attendance at a concert requires 7 hours of daily work.
Polyglot (Kazak, French, Russian, English) and passionate about culture, Madina satisfies her curiosity by visiting Europe and Asia.
Paxmet Madina, менің досым