The History

Art is rare and inevitably luxurious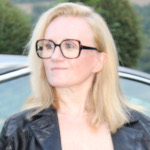 Mari Yvenat
Founder & CEO
Born on the Atlantic coast, the ocean has invited me to travel since my youngest age, a wave that especially brought me to the USA where I lived a while. My two DNAs are music and creativity.

Free electron, pianist and artist, I have always had the visceral need to transform the material and bring it where it is not expected, to mesh the angora, to cut the organdy, to carve boxwood, to shake brushes all night long, to feed the enamels oven, to structure the English garden falsely neglected ... A classic life during the day, an artistic life at night.

KerluxY.bzh is an online Art Gallery with a Creators'store. The Quality Standards lead me from workshops to workshops, which I visit and select for you. It is for their high quality and their originality that the unique artworks are selected.

In the Gallery, artists from all over the world open their studio. Their goal: the transmission of the arts, aesthetics and knowledge. Meet them, listen to their passion... in silence, time is suspended... wait until they sketch a work of art, observe the work come alive... bring "their unique piece of Art in the world" into one's home, wear with happiness a piece of jewelry designed just for oneself. That's the privilege I want to share with you.

In the store, noble materials are worked according to an old-styled know-how. Pieces created will last more than one season and can be passed on from generation to generation. As art combines with culture, the shelves of the shop display books and dvds in Celtic language to preserve the linguistic treasure of our ancestors.

KerluxY.bzh is part of solidarity, always listening to others. You can support certain causes by acquiring pieces identified by the "solidarity" logo.

Stroll through the Art Gallery and the Store, come admire the art pieces before leaving with a painting, a sculpture or a piece of jewellery ... and...
do not be afraid to MAKE PEOPLE JEALOUS.
Live the moment on an air of Keith Jarrett or Yann Tiersen and breathe
A galon vat, trugarez deoc'h